iPhone 5, iOS 6.1 Untethered Jailbreak released! Here's how to Jailbreak your iDevice
Finally! After such a long wait, a group of hackers who go by the name Evad3rs, have released the first usable, untethered jailbreak for the iPhone 5 and the iPad Mini. With iOS 6, Apple greatly enhanced the security of the new OS and hence made jailbreaking a pain in the A. Hackers have been working really hard during the past few months, trying to figure out ways to jailbreak the new iPhone and iOS 6. Now the wait has finally ended and what we have before us is a fully working iOS 6.1 untethered jailbreak. And as always, it's absolutely free.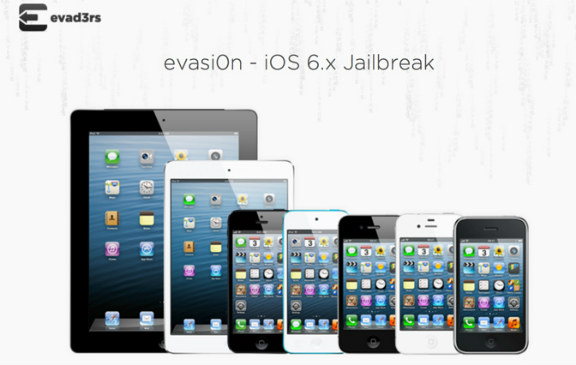 The jailbreaking software, named Evasi0n, allows you to jailbreak any iOS device running iOS 6 – iOS 6.1, with the exception of Apple TV (3rd generation). Evasi0n is available for download on all the platforms, ie. Windows, Mac and Linux. The following is a list of devices supported by Evasi0n:
iPhone 5
iPhone 4S
iPhone 4
iPhone 3GS
iPad 4
iPad 3
iPad 2
iPad mini
iPod touch 5
iPod touch 4
Apple TV 2
Before you begin, make sure that your iDevice is atleast running iOS 6. It's better that you update to iOS 6.1 because the new update brings certain enhancements and bug fixes. You can also update your iDevice Over-The-Air (OTA) and then jailbreak it. I just updated my iPad 3 OTA to iOS 6.1 and jailbroke it using Evasi0n. I personally didn't experience any complications during the process. But if you go by Planetbeing, a member of the Evad3rs group, a clean restore should be made, if possible.
The best way to prepare and perform the iOS 6 jailbreak is as follows:
1. Make sure you've backed up your iDevice using iTunes. This is a must to avoid any data loss.
2. Do a Restore using iTunes. Don't Update, go for the Restore.
3. Once iTunes is done restoring your Apple device, the setup screen will appear on YOUR DEVICE. From there, select "Set up as new device". DO NOT select "Set up as new iPhone/iPad" or "Restore from backup" on iTunes yet. Quit iTunes.
4. Now download the Evasi0n jailbreak tool.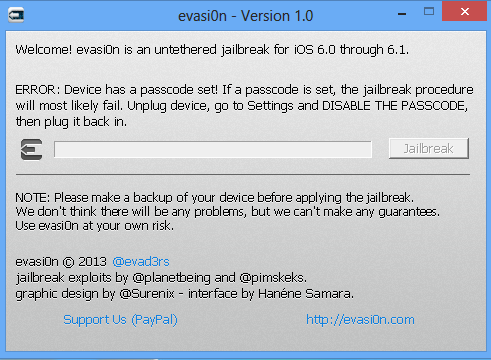 5. Extract it and run it. As you can see above, your iDevice must not have a passcode as it can cause complications during the jailbreak process, hence you need to remove it before you begin. Click on the 'Jailbreak' button and the process should begin. It's a no hassles thing, no putting your device into DFU, it's simple and clean. Just follow the instructions on the screen and you should have your iDevice jailbroken within 5 minutes.
6. Once it's done, your iPhone/iPad/iPod Touch will have Cydia installed. Open it up and allow it to "prepare the filesystem" and then wait for it to respring your iDevice.
7. Start iTunes again and select "Restore from backup" option so as to get all your stuff back.
Following these steps will ensure that you're able to jailbreak smoothly and without any errors.
The members of the Evad3rs group have worked really hard to bring out the Evasi0n iPhone 5 and iOS 6.1 untethered jailbreak. If you wish, you can donate to these genious minds through your Paypal account, details of which can be seen at their official website.